The new Industrial investments team supports industry clients with their future growth
September 15, 2022
In response to an increased need for project financing know-how required by our industry clients and the public funding programs, Spinverse has set up a new Industrial investments team led by Jani Peurakoski. The team consists of five professionals with diverse competences to serve the industry clients seeking to implement and grow their industrial projects. The newly established team is capable of supporting customers across different financing instruments including investment grants and loans e.g. from Innovation Fund, export credit agencies or multilateral finance institutions such as European Investment Bank and Nordic Investment Bank.
Jani Peurakoski has background in banking and through his professional experience he has accumulated in-depth knowledge of export and project finance. At Spinverse he focuses on investment grants and debt advisory. In his new role he is leading a team of professionals which can assist customers with complex projects to create the necessary documentation for grant applications and assist in acquiring debt financing.
The Industrial investment team is a one-stop knowledge center for the Innovation Fund, other investment grants and debt instruments, as the team carefully follows the latest developments of the available funding across all industrial sectors.
J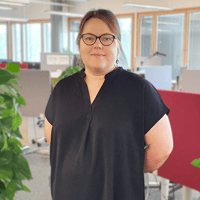 ani is very proud of his team who collectively provide a vast amount of expertise to serve industrial Spinverse customers who are interested in boosting their projects. Consultant Germain Courtois, Innovation Consultant Marja Jallinoja, Consultant Elisabeth Packalén and Senior Project Manager Leena Vedenpää (in photo on the right) can offer advice and expertise on financial structuring, business planning, project management, project leadership, product support, sustainability and calculations on GHG (greenhouse gas), project proposals and funding instruments to mention just a few examples.
Jani concludes: "We are very happy to be able to expand our service offering. At the same time, we are looking forward to working with our new Swedish colleagues from IMCG International, who have demonstrated successful industrial projects for their clients including a winning Innovation Fund project."
Main photo: Jani Peurakoski, Marja Jallinoja, Elisabeth Packalén and Germain Courtois.
Would you like to learn more about the services of the Industrial investments team and how we can help you? Do not hesitate to contact us!