Project STARDUST aims to bring a new and revolutionary treatment approach for Parkinson's patients
Spinverse is one of the nine partners in the STARDUST project, launched in 2017, to create a miniaturised neurosurgical implant leading to a proof-of-concept for a new treatment approach for Parkinson's disease. The four-year project has now progressed to its final year, coming a few steps closer to introduce novel ways to treat a wide variety of diseases.
The main novelty of the STARDUST project, which received funding of 3.8 M€ from Horizon 2020 FET, is the convergence of multiple, interdisciplinary fields. The fields are related to optogenetics, triggered drug-delivery, miniaturised ultrasonic energy harvesting, material science and nanoelectronics. The main goal of the project is to develop a wireless, implantable and independent micro-scale device that will be used to target specific neural circuits in the brain. When ready, this miniature device combining several cutting-edge technologies in one, will be used to test a new therapeutic approach for Parkinson's Disease, and possibly for other disorders.
Progress! Proof-of-concept expected within a year
The project has now progressed to a stage where the proof-of-concept for the new platform is estimated to be ready in a years' time. The project partners have worked hard and already reached many of the set targets.
For example, the researchers from the Humboldt University were requested to join the consortium to tune colours that will be adapted to the applied LEDs and this has already been achieved — there will be new, complex challenges as their research work continues.
A group of scientists from the Tyndall National Institute from Cork, Ireland, are developing the emerging revolutionary technique of optogenetics to address target cells in the treatment of Parkinson's Disease. They have been able to integrate their LEDs into sub-millimetre-sized elements, so called DUST (injectable, ultrasound-powered smart 'dust'), and the aim is to further reduce the size of the DUST to add additional functions such as a drug-releasing layer. In true fashion of a collaborative project, the partners from the Aarhus University are energising the LEDs by ultrasound to make the DUST and powering schemes operational.
Spinverse supporting the project with various activities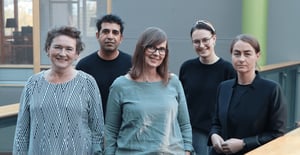 Spinverse experts have provided their support in various activities to strengthen the information and knowledge exchange within the STARDUST project. Spinverse has helped to maximise the impact of STARDUST project through communication, dissemination and exploitation. For example, Spinverse experts have been developing a roadmap to share the technological outcomes of the project to stakeholders.
Spinverse team also created a data management plan for STARDUST which has helped the project to outline how massive amounts of data generated will be processed during and after the project. One of the other initiatives where Spinverse has been working on was to help develop doctorate-level course materials comprising of eight lectures highlighting the different aspects of STARDUST technology. Rohit Sood, one of the Spinverse experts in the STARDUST project says: "Working with STARDUST project has been highly interesting and we are looking forward to the commercialisation of the technologies developed by the consortium. In fact, we are already looking into developing a future roadmap in collaboration with the whole project consortium."

Spinverse team in STARDUST project consists of Rohit Sood, Emilia Paltta, Maria Papina, Riikka Paasikivi and Maarit Liimatta. This multidisciplinary team brings to the project a winning combination of expertise in business development, communications, and technology.
Rohit focusses on health, medtech, and biotech ecosystem development. He has strong expertise in coordinating and managing EU projects (FP6, FP7, and Horizon2020).
Emilia helps run the day-to-day activities within STARDUST. Her knowledge lies in communications and innovation management.
Maria is an expert in open innovation, business development, sales, marketing and communications. Strong experience in building innovation networks and partnerships.
Riikka is an expert in health and wellbeing businesses ecosystem and building of publicly funded innovation projects. Almost 30+ of experience in working with the EU Commission and EU funding.
Maarit provides communications expertise to support the project with content creation and linquistic quality assurance.
The project partners have also been very productive in writing academic papers as the project has progressed. In all, Aarhus University, CNRS, Humboldt University, Tyndall and VIB have produced 14 scientific publications touching upon the topics related to the project. This helps the project to gain more visibility and interest in the scientific community.
More information:
Novel neurosurgical implant for Parkinson's disease
Project STARDUST website