Promotion news: celebrating success
February 18, 2022
Our people are our most valuable asset, and we want to regularly award our hardworking experts with promotions. This is to acknowledge their contribution to our and our customers' success and to encourage them in their professional growth, and to take on more responsibility in their roles. In this round of promotions, we are celebrating Miguel, John, Saija, Cloé, Leena and Vanessa for their stellar contribution.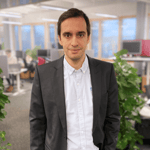 Director and Team Leader Timo Ropponen of the Manufacturing and Energy team acknowledges the work of Miguel Lopes with his promotion to Senior Project Manager. According to Timo, Miguel has shown stellar performance in different types of projects, ranging from large funding calls to conducting a study for a customer. Miguel demonstrates a wide industry expertise from offshore energy solutions to a number of sustainable raw materials. Miguel's can-do and proactive attitude has earned the trust of his customers.
Senior Manager and Team Leader Anu Ilmonen leads her small yet efficient Defence and Security team, where Saija Juslén (1st from left in the main photo) and Cloé Balloch (1st from right in the main photo) are promoted Project Managers. According to Anu, Saija has successfully managed the preparation of a highly complex European Defence Fund proposal preparation, receiving excellent feedback from the customer. Saija is a hardworking and committed team player who is fun to be with and comfortable with working on multifaceted projects.
Anu says about Cloé: "Cloé's prior experience in the defence and security sector in France has opened up new kinds of project types to Spinverse, and the customer feedback from her latest, complex project has been overwhelmingly positive. Cloé is a strong team player, fun to be around with, showing an organized and proactive way of working."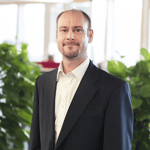 Veera Mustonen is the Senior Manager and Team Leader for Smart Cities and Mobility team, and her team member John Sperryn is promoted to Senior Project Managers. Veera says of John as follows: "John is the virtuoso of running large EU projects. Ever the English gentleman, John is a great colleague who always supports others with a great smile and is much appreciated by the customers, thanks to his professionalism and strong communication skills."
Director and Team Leader Maria Papina of the Growth Companies team wanted to highlight the hard work of Leena Vedenpää who is promoted to Senior Project Manager, and that of Vanessa Salmela (in the middle in the main photo), whom we can now call a Consultant.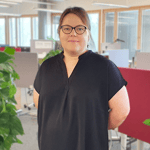 Maria says that Leena has driven her most recent large project to success, empowering and motivating her project team to excel and reach their full potential. Always there for her colleagues and customers, Leena never shies away from challenges and helps customers to expand their strategic thinking with her approach.
According to Maria, Vanessa is a perfect example of someone who has grown in her role by excelling every step of the process from sales to delivery, with tangible successes for her customers. While working smart, Vanessa is always confident yet humble, creating a positive working environment for her colleagues.
We are so happy and lucky to have such great colleagues — congratulations to everyone!