LuxTurrim5G showcases successful ecosystem leadership
January 27, 2022
The R&D phase of the LuxTurrim5G ecosystem of 26 partners, led by Nokia and coordinated by Spinverse, has now been completed and the developed solutions are getting ready for global markets. Spinverse has played a significant role in contributing to a successful outcome of this complex ecosystem developing innovative solutions for smart cities. The project has been all about efficient communication and working together towards the common goal with the ecosystem partners. Meet Spinverse experts behind the LuxTurrim5G ecosystem.
The LuxTurrim5G ecosystem driven by Spinverse during last five years offers smart urban infrastructure and concept to build a variety of services for sustainable cities and to support ease of everyday life for citizens, enterprises, and cities. Principal Consultant and LuxTurrim5G Ecosystem Leader Markku Heino, Project Director Joni Turunen, and Senior Project Manager Pekka Torvinen from Spinverse have been working with the LuxTurrim5G ecosystem from its very start.
Markku, Joni and Pekka had their own, designated roles in the project but also worked together intensively as a team, supporting each other and the ecosystem partners. Markku Heino, a seasoned ecosystem leader, took care of the overall leadership of the ecosystem and ensured efficient communication inside and outside the ecosystem, whilst Joni Turunen and Pekka Torvinen were more involved in project management. As a result, the various moving parts within the ecosystem and its projects were kept in balance and the projects progressed according to plans.
Smart pole concept is ready for global markets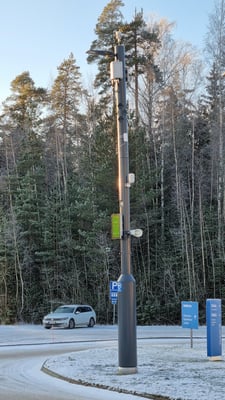 In LuxTurrim5G, Joni was looking after the progress of the smart pole concept. During the last two years, the partners developed a modular smart pole family through several design and manufacturing iterations. The current modular smart pole version is suitable for commercial installations, and discussions are currently ongoing with several potential customers for the next installations. The future of the smart city market will be multi-stakeholder and with various services that help citizens in their daily life. Whether the solutions help you or goods to move around in a city, secure your safety, or improve your well-being with better air quality, they will need several sensors, connectivity, and stakeholders to implement them - and this is what the LuxTurrim5G concept enables.
One important asset created together is the unique Smart City pilot environment around Nokia Campus, in Espoo which continues to serve as a living lab for smart city service development.
Smart city concept offers an entity of services to citizens
Pekka's focus area in LuxTurrim5G was linked to Smart city services and use cases. LuxTurrim5G promotes the emergence of a smart city data economy, including a data marketplace for innovating new data-based services.
The project partners have piloted and developed several data-driven smart city service solutions and tested them together with the smart city data platform and marketplace which enables to buy and sell and enrich local data. The services have covered many interesting areas such as smart traffic, transport & mobility, public safety, health & wellbeing, and city development, infrastructure & energy.
Pekka Torvinen says: "The major impact in the future will be in the local data platforms and marketplaces which will make the local data accessible for companies and citizens. This will create new business opportunities from the data and foster the local developer community to create new services. In general, the open data economy is still a new area for companies. During the whole project, the partners have learned a lot about the business through the piloting and research work done and are now in the forefront of this emerging trend."
LuxTurrim5G smart city pilot environment at Kera, Espoo

- 1,5 km route from Nokia Campus to Kera railway station in Espoo
- 19 smart poles, two smart bus stops, drone, autonomous vehicle, package delivery kiosk
- More than 250 connected IoT devices
- Fast, low latency mmWave 5G small cell network
- Local data platform and marketplace
- Digital twin
- Unique living lab to test smart city services and IoT solutions
Best practices and learnings on building and leading an ecosystem
Regarding the role of ecosystem leader in complex ecosystems, such as LuxTurrim5G, Markku Heino says: "From my experience, as an ecosystem leader you need to have the overall understanding of complex entities and the big picture, show leadership and act as a neutral facilitator of the joint work. Cooperation does not take place between organisations — it is done between people. Engaging people in the joint work and establishing an atmosphere of trust and enthusiasm enable real cooperation which at best, leads to great results."
Markku sees LuxTurrim5G as an example of a positive circle. It has expanded into new projects like a tree sprouting new growth: one key project has grown into a larger ecosystem with 26 active partners working hand-in-hand towards common goals and a wider group of external stakeholders linked to the cooperation.

What started as the development of smart light poles evolved into building a platform for connectivity and digital services for smart cities including, for example, autonomous buses, drones, location services, last-mile logistics, public safety, city planning, regulation, data privacy and new business and operating models. Putting together all the pieces involved a lot of partners from diverse industries and disciplines. Success made through good cooperation is like a magnet in which everyone wants to participate. This is what ecosystems at best are all about.
Takeaways and learnings from the LuxTurrim5G project coordination
It has been very rewarding for the Spinverse team to be part of such an innovative and enthusiastic group of companies and many other organisations spanning from regulatory bodies to cities, business sector leaders, high-tech companies and top-notch scientists.
According to Markku, the smart city expertise of the Spinverse team has grown a lot along the way and the learnings will be highly beneficial for similar projects in the future. There are many important learnings from the LuxTurrim5G project that can be adapted to any complex ecosystem project. Actually, the previous experiences of the Spinverse ecosystem experts have just strengthened. It is important to have clearly defined joint targets and project plan with the role of each partner identified. Active communication, both internal and external, is an important tool for ecosystem leadership and ecosystem culture all in all. Working in an ecosystem is a skill as well, not only the leadership which of course plays a key role in creating the culture. The leadership needs to be dynamic, also ready to redirect the project when needed to ensure the targets are met. Naturally, the pandemic demanded to adopt some new working methods to ensure highly collaborative joint work even remotely. The ecosystem journey has naturally had several stages which all have different needs. It is important to keep eyes on the clear focus during the path from research project to joint development and systematic steps towards commercialization. All in all, this is a matter of leading complexity.
Spinverse support has been instrumental in the success of the LuxTurrim5G
Juha Salmelin, Leader of the LuxTurrim5G Ecosystem at Nokia, has worked with the Spinverse team very closely during the LuxTurrim5G ecosystem journey, from the early ideation to current pre-commercial stage. He says: "By delegating most of the ecosystem coordination, project practices as well as public communication activities to Spinverse, we and partners have been able to concentrate on the actual innovation together. This way, everybody has got out the key results from the cooperation, although the issues have been very complex and unforeseen. We are not at the end of our journey yet but will continue working with the products and move on to the next unforeseen possibilities with the help of upcoming 6G technology."
More information:
LuxTurrim5G project website
Valopylväs on jatkossa kaikkea seuraava älypylväs – se kietoo niin kaupungit kuin maaseudun verkkoon yhä tiiviimmin, Helsingin Sanomat, 16.12.2021
LuxTurrim5G offering showcased in Expo 2020 Dubai as from October

LuxTurrim5G ecosystem includes the following partners: