LuxTurrim5G offering showcased in Expo 2020 Dubai as from October
September 29, 2021
An important gateway to the global market for the smart city offering developed within the LuxTurrim5G ecosystem will be opened at the Expo 2020 Dubai, launching in October. In the event, the LuxTurrim5G concept and two functional smart poles will be showcased together with Nokia and Tehomet, Orbis, Teleste, Vaisala, Indagon, L7 Drive, Link Design, VTT and Spinverse. Spinverse has been part of the ecosystem since its very start, taking care of the ecosystem leadership and project coordination.

The LuxTurrim5G ecosystem has ignited a lot of interest both in Finland and around the world. The development of the modular smart pole, related elements and several digital services has been completed and the consortium is aiming for more extensive pilots in real urban environments. Readiness for smart pole deliveries has been fine-tuned not only with technical development in mind, but also various business models have been prepared.
Principal Consultant, Ecosystem Leader, D.Sc. (Tech.) Markku Heino from Spinverse is very excited of this important milestone for the LuxTurrim5G ecosystem. He says: "We at Spinverse are very proud of this vibrant ecosystem that we have had the privilege to lead. It has been a unique opportunity to build it together with the ecosystem partners. Now we are ready to share the significant results of hard joint work to global audiences, showcasing our pioneering solutions for smarter and safer cities at the Dubai Expo and beyond."
LuxTurrim5G offers a holistic solution, the digital backbone, for cities helping them to tackle the challenges of urbanization and climate change, boost sustainable development and turn into thriving smart cities. The multi-functional smart poles providing fast 5G connectivity and a city-wide sensor network bringing relevant online data from various sensors, cameras and other devices available. Combined with local secure data platform and data marketplace operated by Neutral Host for processing, sharing and utilizing collected data and data from other sources this enables a variety of new digital services ensuring e.g. public safety, situational awareness, healthy living, smart energy, efficient transport and logistics.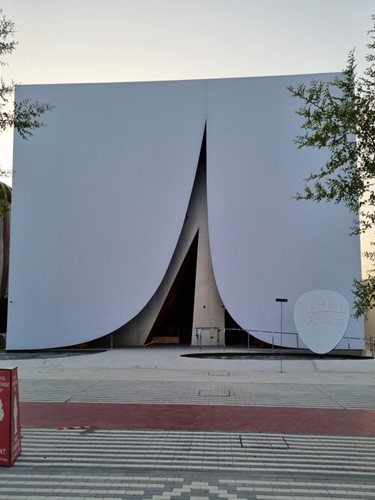 The Finland pavilion at Expo 2020 Dubai, named Snow Cape, will bring together over 100 Finnish companies to present their offering and solutions during a period of six months, from October 1st 2021 to March 31st 2022.  The pavilion presents globally leading clean technologies, circular economy with sustainable use of resources, sustainable energy and digital solutions, mobile communications, machinery, education, health & wellbeing, travel, and Finnish design.  LuxTurrim5G ecosystem is contributing to one of the event major themes, Smart Cities, among Nokia, Kone, Granlund and other key companies.
LuxTurrim5G partners at the Expo 2020 Dubai
LuxTurrim5G ecosystem is represented by Nokia and nine LuxTurrim5G partners showcasing two functional smart poles, one outside the Finland Pavilion and the other one at the Nokia section inside, in addition to smart city services and offering by participating companies.
Welcome to join the event on-site in Dubai or virtually!