LuxTurrim5G attracted an interested stakeholder crowd on the ecosystem's VIP Day at Dubai Expo 2020
March 29, 2022
The LuxTurrim5G ecosystem and its product offering were proudly showcased at the Expo 2020 Dubai. In March, the LuxTurrim5G ecosystem arranged a VIP event at the Expo to present the ecosystem offering, partners and solutions to a group of ecosystem stakeholders. Finnish innovations gained a lot of attention in Dubai Expo: Finland pavilion actually hit the mark of one million guests before the exhibition closes its doors on 31 March 2022.
Main photo: Joni Turunen and Pekka Torvinen in front of the Finland pavilion at Dubai Expo 2020.
The LuxTurrim5G VIP event at Dubai Expo, organised on 10 March 2022, welcomed a good crowd of smart city stakeholders from public services, municipalities, device manufacturers and local research organisations. They were treated to an information-packed face-to-face event with interesting presentations and concrete demos to illustrate the services and solutions that can make a city smart.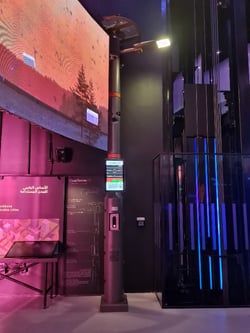 The 4-hour event was hosted by Senior Project Manager Pekka Torvinen from Spinverse. Joni Turunen, who is a Project Director at Spinverse, helped the stakeholders in getting the most out of the LuxTurrim5G demos on display outside and inside the Finnish pavilion. The atmosphere at the event was very international and outside, the temperatures soared to 30 degrees. The obvious stars of the show were the smart poles developed by the ecosystem. Joni Turunen says: "We were happy to hear that the LuxTurrim5G smart poles have received a lot of positive feedback and interest from the Expo guests. It is no surprise, as they are tangible devices showcasing their innovative functionalities for a smarter and safer urban environment."
The VIP event was kicked off with a short introduction of the LuxTurrim5G project and companies participating at the Expo 2020 Dubai. At the event, representatives were present from VTT, Vaisala, Nokia, Tehomet (Valmont) and Spinverse. Orbis, Teleste, Indagon, L7 Drive and Link Design were also showcased at the Dubai Expo but did not make it to the VIP event.
The guests were officially welcomed by Severi Keinälä, Commissioner General of Finland pavilion, Business Finland, and Nina Vaskunlahti, Under Secretary of State, International Trade, Ministry for Foreign Affairs of Finland. The event host Pekka Torvinen continued by telling the audience about the LuxTurrim5G journey. Nokia's Head of Smart Cities in MEA, Muneer Zuhdi then took over by presenting how cognitive cities with intelligent urban assets can be built. Smart Solutions Product Manager Sami Huuskonen from Valmont Industries explained the Smart pole infrastructure in his presentation. Insights on the smart city data platform and marketplace were presented by Executive Vice President Erja Turunen from VTT. The informative presentations ended in a speech by Market Manager, Urban & industrial Systems, Elena Garcia Pallas from Vaisala. She discussed how using environmental & weather data can make cities more energy-efficient and improve well-being.
After the presentations, the guests were able to see and experience the live demos on smart poles and services in the pavilion area and network with the experts and discuss the possibilities for future collaboration.

More information:
LuxTurrim5G project website