Substantial opportunities for defence industry in 2023 – Time to start planning for the next European Defence Fund
December 15, 2022
In 2023, the EU Commission will be allocating close to 1 B€ to the most promising European defence development and research projects. The call texts are due to be published in the spring of 2023, but now is the time for companies and research entities to start making plans for EDF 2023.
In only two consecutive years, the European Defence Fund (EDF) has established its footing as a crucial instrument for fostering cross-border European defence innovation and collaboration.
Historically speaking joint EU-funded defence cooperation and strengthening of the European defence industry has only received prioritization in the last five years. The EDF's precursor programmes, the Preparatory Action on Defence Research (PADR) and the European Defence Industrial Development Programme (EDIDP) programmes ran in partly overlapping stages between 2017 and 2020, building the foundation into what is now the EDF, an 8 B€ defence fund dedicated solely to strengthen the EU's defence industrial base for the years 2021 to 2027.
In 2021 the EDF awarded 61 projects out of 142 submitted project proposals to support European defence innovation and collaboration. For EDF 2022 the number of submitted proposals was significant albeit slightly less – 134 proposals. These project proposals are now under review and the results will then be released most likely before the end of summer 2023.
Time to start planning ahead is now
Spinverse's Defence & Security team, led by Director Anu Ilmonen, has taken part in both EDF and EDIDP calls and has a track record of delivering proposals in cooperation with some of the most innovative companies in Europe.
To meet the methodical and diligent criteria for high-quality proposals set forth by the EU Commission, Spinverse brings together years of experience and expertise in EU project funding and management, working with large companies, mid-caps, SMEs, research organisations and universities, national Ministries of Defence and the EU Commission. Through its European wide networks, Spinverse can help you reach out to partners and amplify your ideas through proficient funding workshops.
While the call texts for EDF 2023 will most likely officially be released during early spring/ summer 2023 it does not hinder companies and research entities from proactively begin deliberating on possible project or consortium ideas in advance. Now is the right time to start thinking ahead.
We know from previous calls that strategic themes for the past years have included materials and components, sensors, disruptive technologies in the digital and information domains, ground, naval and air combat capabilities, force protection and mobility. In addition, there are non-thematic calls dedicated to SMEs and Research Organisations (RO). The selection is wide, but so are the opportunities.
The current security environment in Europe highlights the need to develop and strengthen innovative capabilities and research in Europe. In research projects the EU usually covers the funding completely, but in capability development projects co-financing is required and having the support of your Ministry of Defence is therefore imperative.
Spinverse is at your service
If you have read this far and you think that the EDF 2023 is worth considering for your future projects or you just want to learn more about the process of getting onboard, do not hesitate to be in touch. Spinverse can support you from the very beginning, keeping the threshold low and the level of ambition high.
We are happy to set up a call with you and discuss how to move forward with your initial ideas in the best possible way.
Give us a call, send us an e-mail or get in touch through LinkedIn. You can find some of our offerings on our Defence and Security page, read about one of our latest successes or get in touch with Anu.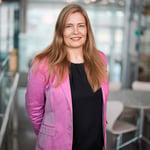 Anu Ilmonen
Director, Team Leader
Defence and Security
Tel. +358 400 263 251
anu.ilmonen@spinverse.com