Way of working at Spinverse changed along with the renewal of working environment
April 29, 2021
The main focus of more than 60 Spinverse experts is to innovate, ideate and challenge. This is why the company's working environment called for inspirational spaces for innovation. Spinverse recently moved to Keilaniemi, Espoo, to larger premises and aimed to create an environment where employees can work in a variety of ways, meet colleagues and also celebrate success.

The year with corona made us think about our ways and places of working

Over the course of the challenging and exceptional year of 2020, Spinverse grew and recruited 15 new employees. The old premises became too small and expectations for a new office space were set high. Before, Spinverse had somewhat limited possibilities for remote working and employees had the opportunity to work remotely once a week. With the epidemic forcing everyone to adapt to the new normal, a different perspective on working was required. It became obvious that certain ways of working suited to some, and another way worked for others. There was a desire to enable different ways of working also at the office when people will finally be able to return there.
Working life is undergoing a big change and the premises need to change too. The role of the office is to serve employees and provide the best possible place to innovate and be inspired.
"Working life is undergoing a big change and the premises need to change too. The role of the office is to serve employees and provide the best possible place to innovate and be inspired. The office has all the necessary furniture and equipment so that each of us can succeed in our work. Best of all, at the office we will meet our wonderful colleagues," says Laura Koponen, CEO of Spinverse.

For everyone to be able to work in the best way suited for them, Spinverse set the following requirements for the new premises:
Small meeting rooms where you can innovate together with colleagues or arrange remote meetings
A common "living room" where you can meet and enjoy each other's company
Outside the actual work area, there will be a few more desks where you can stop to work temporarily
Different seat options for workstations, with good ergonomics in mind
Kitchen and an area for hanging out where you can also spend time outside working hours
Functional and intact furniture from old premises will be brought into the new work environment.
Every employee is provided with the best environment for smooth working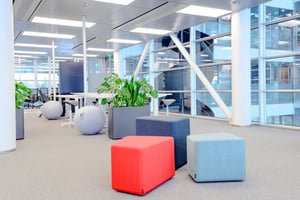 Special attention was paid to the acoustics, colour scheme and ergonomics of the office. The interior design for the new office was designed to match the colors of the brand. Attention was also paid to the office's walkways, and the office flooring was used to guide traffic from the entrance to the area where coats can be left. The soft carpet and upholstered furniture offer good acoustics in the open space.


"We have people of all ages and heights at work and everyone has their own needs for furniture. That is why we wanted to invest in workplace ergonomics and choose from a wide variety of different seats. This way, everyone can find the best seat for themselves. All our tables are electric so everyone can adjust the table to the right height," says Laura.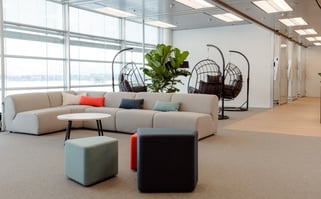 The "living room" and coziness played a big role in making the
office comfortable. Large green plants
and the Naava plant wall bring some nature and liveliness into the office space. The beautiful sea view complements the impact. Spinverse wanted to have large sofas so the staff could get together for different occasions. Two large movable screens, and the
Kivikko
stools with wheels enable versatile use of the shared space.

"Our office is wonderful! We wanted a large, shared space for different kind of ways of work and also for hanging out with the colleagues. We cannot wait to host a housewarming party for our staff when the time is right. There is always a bottle of bubbly in our fridge which will be popped open when there is a time to celebrate successes," Laura concludes.

Spinverse's office was designed and furnished by Isku Interior Oy. Read this article in Finnish on Isku website, along with more photos.