Spinverse strengthens its expert teams
August 30, 2021
This spring and summer, we were seeking for several new experts to join our ranks, and we are now gradually onboarding our newly hired colleagues. They will help our customers grow through public funding in health tech, defence and security, smart city & mobility, manufacturing industries, and ICT & electronics. Warm welcome to Renuka, Cloé, Veera, Robert, Simo-Pekka, Sameer and Diederick.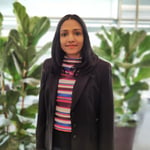 Renuka Ratanajan joined the Health Tech team as an Analyst a few months back. Renuka holds a Ph.D. in Neuroimmunology from the University of Tampere and has special interest towards data in science. Her insights and prior experience on working with Horizon 2020 and various healthcare solution projects will be a valuable addition to our health tech team, when we help them bridge the gap between research and healthcare solutions.
Cloé Balloch joined us as a Consultant in the Defence and Security team in July. In her native France, she has studied international relations, defence, security and crisis management, and foreign languages. Before joining Spinverse, Cloé worked as a consultant in a French company with a focus on the defence industry and naval issues. What is quite interesting about Cloé is that she relocated to Finland without ever having visited Finland! We hope she will settle in nicely and enjoy living in her new hometown in metropolitan Helsinki. Cloé says: "Moving to Finland was of course a big change but I am very excited about the new challenges ahead and to work in such an inspiring environment."
Veera Mustonen joined Spinverse as a Senior Manager and Team Leader for the Smart Cities and Mobility team. Veera brings more than 20 years of wide experience and expertise in innovation leadership for making a smart city. In her career, she has created a large-scale smart city innovation platform, Smart Kalasatama, in Helsinki and kicked off a living lab in Australia. For 15 years she pursued a career in the ICT industry, working for Nokia, Sanoma and Fujitsu, Where she focused on various topics such as user experience, smartphones portfolio planning and mobility development. With extensive experience spanning across both private and public sectors, her expertise lies in open innovation, engaging and orchestrating complex stakeholder groups. Veera is trained as a cognitive scientist and is currently a Ph.D. candidate. at Aalto University, Helsinki. Veera says: "I feel being in the right place at Spinverse, driving innovation with exciting partners across Europe."
Robert Roozeman joined the Manufacturing and Energy team as a Senior Consultant. He brings in 20+ years of R&D experience from a wide range of multidisciplinary research topics working both at research institutes (VTT, KCL) and growth companies. These include work on enzymatic and PEM fuel cells, printed flat batteries, paper-ink interactions in printing processes, electroplating of coatings for solar energy elements, advanced materials, 3D printing for biomimetic and printed electronics applications, conductive and dielectric pastes for printed electronics, optical materials for coatings and nanoimprinted optical elements for VR/AR applications. Robert has been involved in the preparation of tens of grant applications for joint funding from the EU FP7 and Horizon2020 programmes, Business Finland and the Academy of Finland calls and ESA tender rounds.
Simo-Pekka Leino also joined the Manufacturing and Energy team as a Senior Consultant. Before joining Spinverse, Simo-Pekka worked over twenty years for VTT in many research areas in different positions, most recently as a Research Manager and Principal Scientist in the area of Cognitive Production. Simo-Pekka is experienced in preparing and managing jointly funded as well as commercial projects. The topics of the projects have mainly been related to the digitalization of product development and manufacturing processes and networks. Simo-Pekka holds a Doctor's degree from TUT Mechanical Engineering and Industrial Systems.
Senior Consultant Sameer Khan and Consultant Diederick Stellingsma both joined the ICT and Electronics team in mid-August.
Sameer Khan, an experienced B2B professional, has been focusing on industrial service consulting and IT business. He has previously worked with AFRY as a Principal Consultant and has been a Digital Business Strategist with Tieto. Sameer holds a Bachelor's degree in Mechanical Engineering. Sameer has been residing and working in Finland for 9 years and has in-depth, unique insights on Finnish industries' ongoing digital transformation. Developing digital business models and partner ecosystems across several industry sectors is Sameer's area of expertise. He has been helping his customers strategize their way to transform themselves to business-technology companies.

Before joining Spinverse, Diederick Stellingsma worked at Dupont Industrial Biosciences as a customer relations representative, managing accounts for enzyme customers in Europe, Middle East and Asia. He also has experience as a public consultant for JS Consultancy. In this role he was responsible for organizational changes, process improvement and implementing new IT systems. Diederick holds a M. Sc. (Business) degree in University of Amsterdam Business Administration, specialising in International Management. Project management, consultancy, process improvement and change management are important topics for Diederick, and he strives to improve companies through new innovations and technologies. Diederick has recently relocated to Finland from the Netherlands and says: "My first impressions at Spinverse have been warm, welcoming, and a deep dive into a new business world for me. I'm kind of new to the whole business, but everyone has been very open and approachable!"
We are very excited to have our new colleagues joining Spinverse and are looking forward to working with them. Welcome!