Spinverse: Paving the way for renewable energy through FlexiGrid
June 2, 2023
As an essential driver in the FlexiGrid project, Spinverse is facilitating the energy transition towards a greener future. With a strong commitment to support Distribution System Operators (DSOs) in their journey to adapt to the evolving energy market, Spinverse is unlocking avenues for the integration of 100% renewable energy across Europe.
As the EU strives to reach the ambitious goal of generating 50% of its electricity from renewable sources by 2030, the energy sector grapples with imminent challenges surrounding grid reliability, stability, and secure supply. Rising to these challenges, the FlexiGrid project — supported by the Horizon 2020 programme and featuring 16 partners from 8 European countries — acts as a leading light in innovation. It's geared towards unlocking and optimising flexibility resources for DSOs, who are at the core of this energy revolution.
Spinverse's crucial role in FlexiGrid includes the following key responsibilities:
P

roject management

Identifying the barriers to innovation, exploitation and deployment, financial instrument

Communication, engagement, and dissemination

Grid services and market designs, regulations, and business models



The Principal Consultant at Spinverse, Magnus Andersson, passionately highlights the company's contribution to the project: "At Spinverse, we are leading, not just managing, the FlexiGrid project. We are striving for future commercial impacts and not only technical advancement. Our focus is on driving a rapid transition to a renewable future, adapting and leading in an ever-evolving environment."
Through these activities, Spinverse equips DSOs to navigate and thrive amidst industry transformation, facilitating Europe's smooth transition towards a more sustainable and fossil-free future.
With Spinverse driving the initiative, the FlexiGrid project is redefining the boundaries of renewable energy integration and revolutionising Europe's energy grid landscape, fostering a greener future.
For more on Spinverse's role in the FlexiGrid or to explore collaboration opportunities, kindly get in touch with us!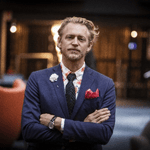 Magnus Andersson
Principal Consultant, Sustainable Industries
magnus.andersson@spinverse.com