Spinverse gives room for growth and continuous learning
December 18, 2019
To be able to tackle major global challenges in various industry segments, Spinverse seeks to hire skilled experts from many different fields to meet the needs of the clients. Both new and current employees are empowered for personal and professional growth and continuous learning at Spinverse. Get to know some of the growth paths at Spinverse.
At Spinverse, people can take on more complex project management responsibilities once they accumulate experience on working closely with the various aspects of the projects. Paula Pennanen, Maria Rinkkala, Rohit Sood and Erika Forstén were recently promoted to embrace new and exciting responsibilities in the company.
After having started at Spinverse as a Project Manager, Paula is now a Senior Project Manager in the Key Digital Technologies team with focus on technology commercialisation, large EU project proposals and EU project management. Her first projects have included for example the EU project PeptiCaps that developed and validated a new family of safe, stimuli-responsive nano-capsules. Her most recent one is the ECSEL JU project APPLAUSE that drives new technology in advanced packaging for photonics, optics and electronics. Paula has helped customers acquire millions of euros in EU and national funding and sparred numerous companies on their path to new sustainable business.
With four years of Spinverse experience under her belt, first as an Analyst and then as a Consultant, Maria was promoted a Project Manager in the Energy and Manufacturing team. Over the past years, Maria has supported various customers in technology commercialisation and secured EU-funding for R&D projects. "One of the most rewarding part of this work is to see happy customers and the added value our work has brought to them. My colleagues are great, and I enjoy the fact that Spinverse offers a real vantage point for new innovations and future technologies," Maria says.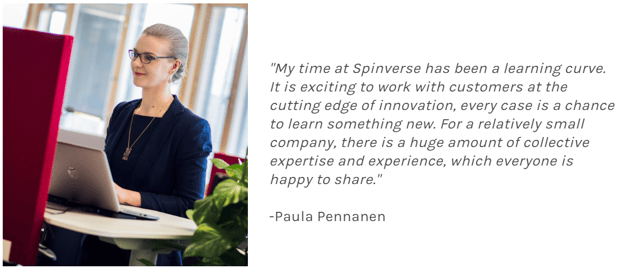 Rohit started at Spinverse exactly two years ago as a consultant and was promoted to Senior Project Manager in the Key Digital Technologies team. He brings his expertise on health, wellness and biotech ecosystem development to the Spinverse clients. Currently he focuses on EU projects such as Stardust and Innpaper. Rohit says: "I am pleased to be able to utilise my background, expertise and experience widely, and at the same time, be at the core of changing the world by means of strategic and open innovation." In the future, Rohit wishes to learn more about building open innovation ecosystems.
Erika is an example of a young professional gaining more responsibility while relentlessly working towards the set goals. Erika, who holds a M.Sc (Tech.) degree on Advanced Energy Solutions first joined Spinverse as a summer trainee in 2017 and continued as a trainee until the beginning of 2018 when she went to Kenya to work on her Master's Thesis on urban energy transitions in emerging markets. After her graduation in September 2018, Erika joined Spinverse full-time and was recently promoted as Consultant. One of her most recent projects was participation in the preparation of an extensive study for Business Finland. The study focused on assessing the Finnish and European battery ecosystems to get more understanding on the current status of the battery industry.
Working at Spinverse empowers its employees to use their expertise widely and focus on their areas of interest. Spinverse encourages continuous learning for the whole staff. Year 2020 will see competence development as one of the important themes in Spinverse's strategy, and there is a plan to tailor suitable training programs for the staff to fill up any competence gaps among the company experts.
Are you interested in a career at Spinverse? We are constantly recruiting new experts and five summer trainees for 2020: Apply here!