Spinverse empowered Avantium's breakthrough CO2 utilization project
June 12, 2023
Avantium, a Dutch company committed to sustainability, is revolutionizing the packaging industry through its ongoing HICCUPS project partially funded by Horizon Europe. By converting biogenic CO2 emissions into bio-based plastics, Avantium joins forces with HICCUPS consortium members to provide eco-friendly packaging solutions. Behind the scenes, Spinverse played a crucial role in empowering Avantium's initiative.
The HICCUPS project, spanning from 2023 to 2027, has received significant funding of 5 M€ in EU contribution from the Horizon Europe Circular Bio-based Europe Joint Undertaking (CBE JU). programme. Avantium leads a consortium of 12 partners from 7 countries, united in their mission to develop innovative technologies that can effectively convert biogenic CO2 emissions into sustainable bio-based plastics.
At the heart of the project lies a commitment to environmental impact. By harnessing biogenic CO2 emissions and transforming them into recyclable and biodegradable bio-based plastics, Avantium drives positive change in the packaging industry. Their innovative approach reduces reliance on fossil-based resources and aligns with global sustainability goals.
Spinverse has played an important role on Avantium's journey towards sustainable packaging by securing the successful outcome in the competitive funding application process. Spinverse's funding experts, led by Project Manager Marianna Mea from Spinverse, worked closely with the HICCUP consortium to secure the necessary financial resources, ensuring the acceleration of the project's development and implementation. Additionally, Spinverse facilitated collaboration among key stakeholders, bringing together industry leaders, researchers, and policymakers to create a strong network of partners.
The Technology Manager Annelie Jongerius from Avantium worked closely with the Spinverse team during the intense funding application process. She says: "With Spinverse, we were able to focus on what we do best - the content and the technology. They took care of the rest, and they did it remarkably well."
The environmental impact of the HICCUPS project is significant. By converting biogenic CO2 emissions into recyclable and biodegradable bio-based plastics, Avantium leads the charge in reducing the environmental footprint of the packaging industry. The project holds significant potential for transformative change, driving a sustainable revolution in packaging practices.
With the support provided by Spinverse at the project preparation phase, the HiCCUPS project consortium is poised to achieve remarkable milestones in their sustainable packaging endeavors. They are driving the industry forward, revolutionizing packaging practices, and paving the way for a greener and more responsible future.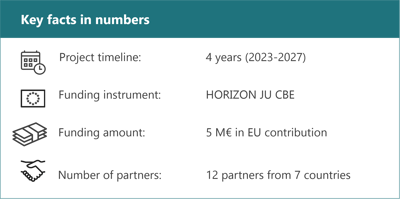 More information: Avantium Press release 25.05.2023
HICCUPS Consortium
This project has received funding from the Circular Bio-based Europe Joint Undertaking under the European Union's Horizon Europe funding programme under grant agreement No 101112455.
Coordinator: Avantium (Netherlands)
Funditec (Spain), University of Amsterdam (Netherlands), INRAE (France), ACCIONA (Spain), Nova Institut (Germany), VTT (Finland), University of Ferrara (Italy), Tecnopackaging (Spain), Aqualung (Norway), SINTEF (Norway) and Walki (Finland).