Simplify EU funding search - Spinbase upgrades user interface and new features
September 16, 2021
Equipped with a powerful AI engine and semantic analytics, Spinverse's funding search engine Spinbase shortens the search time from hours to mere seconds. In our commitment to drive research and innovations, Spinbase listened to customer feedback and made major upgrades. Now with a brand-new user interface, calendar views and email reminders, your team can easily harness the tool and align with upcoming and relevant EU funding calls.
Finding the right EU funding calls and partners can eat up a huge chunk of an EU funding expert, or a researcher's time. Such precious time could be saved to do what they do best: build winning proposals, pursue new knowledge, and to innovate. Spinverse team knows such frustrations first hand, as our funding experts have been helping our customers win over 500 M€ in EU funding since 2004.
Our solution – Spinbase. By simply inserting project abstracts to Spinbase, you can identify relevant calls, partners and projects across 32+ EU programmes within just a few seconds. Using Artificial Intelligence and semantic analysis, the results yield a much better match than normal keyword-based searches.
We are excited to share a major product update to our customers and innovators network!
Brand new user interface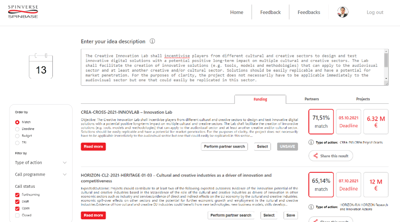 Simplicity and efficiency are at the heart of Spinbase when it comes to searching for EU funding, partners and projects. The new user interface will make the process much faster and more intuitive.
Detailed funding call information is also included in Spinbase. Colour highlights and categories will emphasise the most important elements to note in a call, allowing you to skim numerous calls at ease.
Old and new users of Spinbase alike can make the most of Spinbase with detailed guides and info built into the tools' interface.
View deadlines in a calendar and receive email reminders for important calls
Stop wasting time on manually adding deadlines to your calendar and wondering which calls you should prioritise. With Spinbase's new calendar view and email reminders, your team can share a common view of all relevant calls and ensure you do not miss out on any opportunities.
Like a wise innovator, Thomas Edison, once said: "Opportunity is missed by most people because it dresses in overalls and looks like work." EU funding is a giant opportunity many organizations are missing out due to their complexity. Spinbase is how you can take off the overalls and make EU funding a walk in the park.
We are committed to drive innovations and help you succeed! This product update is the result of that commitment to deliver more value to our customers. If you are interested in learning more about Spinbase, sign up on spinbase.eu or contact Amir Moslemi, Business Development Manager at Spinverse.