Series of business conversations on reimagining the value chains for the digital age
September 21, 2021
Great opportunities for sustainable growth can appear from multiple directions. Sometimes, they occur as a result of unforeseen circumstances, such as global events which trigger a re-wiring of business, government, and society's mode of operation. Sometimes these transformational shifts are recognized by large corporates who have a clear understanding of how fast the snow is melting at the edges of their organization, recognizing that they have to simultaneously dramatically change to a new business model, at the same time as delivering on existing business commitments. Join a series of conversations around these topics, arranged by HCL Technologies and moderated by our Patrick Halford!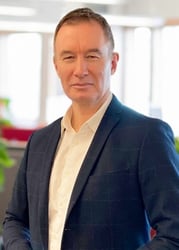 Significant lessons can be learned from leaders within and beyond business on driving transformations in a sustainable way that can deliver a win-win for their organizations and the society at large. HCL arranges a business conversations series under the theme Reimagining Value Chains for The Digital Age, featuring bold transformations and insights from industry leaders. Patrick Halford, VP Digital Industries business unit at Spinverse, will be moderating these exciting conversations so make sure to tune in!
Patrick Halford says: "I'm looking forward to moderating this new series of Business Conversations for HCL Technologies with global leaders from a wide range of industries. In Episode 1 from wonderful Copenhagen we will be learning about the complexities of the airline logistics industry, managing digital transformations…and the challenges and partnerships involved in producing Hollywood blockbusters in Iceland."
Episode 2 on Wednesday, 27th October at 16:00 - 17:30 (EET): Driving Global Digital Transformation

Setting the scene -

Patrick Halford

, VP Digital Industries, Spinverse Oy
The transformational digital journey to become one of the world's leading logistic companies - Navneet Kapoor, Chief Technology & Information Officer and Member of Executive Board, A.P. Moller – Maersk
Digitizing Ambulance, Fire and Emergency Services during a Pandemic - Peter Laustsen, Senior Director - Head of Digital Ambulance, Fire and Enterprise, Falck
How do you shape a digital journey in the complex world of pharmaceuticals - Mika Välilä, Head of Digital Strategy & Architecture, Leo Pharma
Overcoming the gap between digital strategy and execution at a global level - Anand Birje, Senior Corporate Vice President and Global Head, Digital Business, HCL Technologies.
Episode 1 on Monday, 30th August at 16:00-17:30 (EET):

Setting the scene - Patrick Halford, VP Digital Industries, Spinverse Oy
Flying high - Adapting complex logistic operations to global challenges - Leif Rasmussen, Senior Advisor, and former President and CEO of SAS Cargo Group A/S

M

anaging unpredictability. Not everything goes according to the script. Lessons from producing movies in an unpredictable environment - Leifur Dagfinnsson, Founder of Truenorth, Iceland
PS. We will keep you posted on the upcoming episodes!