New colleagues that we have not yet met face to face
June 11, 2020
In the midst of the pandemic, Spinverse welcomed several new colleagues onboard. Some of them started as permanent employees and some joined us for the summer. Between April and early June, we have onboarded a total of nine new colleagues at Spinverse with little or no face-to-face contact. How did it go?
The onboarding of new colleagues was just being planned when the COVID-19 hit and forced all companies, including Spinverse, to close the offices and retreat to work remotely. We quickly adapted to new ways of working, arranging regular virtual meetings, many work-related and some less so, to replace daily f2f communication. We also started to figure out how to deliver computers and other accessories to the new colleagues by mail. So far, everyone has received their work tools without a hitch!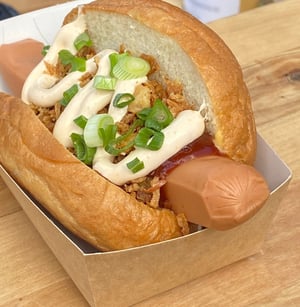 In late May, our managing director Laura Koponen invited all of us to an outdoor lunch in the nearby park in Tapiola and we finally got to see each other, the old colleagues and the new — keeping the required distance! Everyone enjoyed the lovely weather with some tasty lunch from a hot dog truck. There is a plan to continue these outdoor get-togethers during the summer period.
Our new colleagues in the Bioeconomy team, Consultant Riina Häkkinen and Project Manager Niina Kuusanniemi-Abbots mainly work on preparing the EU funding proposals and related activities. After so many years in research, Riina says she enjoys being part of the Spinverse "family", doing something else closer to the market and is eager to learn more about business development.
Johanna Pasanen was recently hired in the Key Digital Technologies as an Analyst mainly for health tech. With a few months under her belt with Spinverse, Johanna is looking forward to learning more about EU projects and their funding. What she has already noticed is that many Spinverse people (or Spinversians, as we like to say) seem to be superior at time management and have a wide variety of expertise from different fields, so she will definitely want to learn from those.
SME team is growing as well with Vanessa Salmela joining as Analyst and Leena Vedenpää as Project Manager. Vanessa observes: "Considering that I started my new job during the COVID situation, I was impressed by how well the onboarding process at Spinverse has been organised. I am also under the impression that Spinverse have adapted very well to the current situation, and I am very happy to be part of a company that have proven to be successful in crisis management."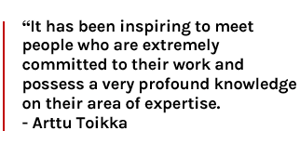 Our summer people include both new and familiar faces. Miki Lehto continues to support the Bioeconomy team whereas Emilia Paltta will work in the Key Technologies business unit as before. The Energy and Manufacturing team boasts two recruits to support for the summer: Already a familiar face at Spinverse, Lasse Mäki and a newbie, Alex Kolster, are a welcome addition in the team. Alex expects to gain a deeper knowledge of various industries and develop a general view of the consulting business. Janne Kleemola will be working with us for the summer in the Key Digital Technologies team whereas Arttu Toikka provides his support for the SME team.
Johannes Ahvo joined Spinverse's Support business unit as Junior Analyst and will be writing his Master's Thesis for Spinverse about Finnish industrial lobbying towards European R&I policy. Moreover, he will be working with topics touching the Horizon Europe and supporting Spinverse's EWGIC activities. On starting to work during the pandemic, Johannes says: "It has been a bit odd to start working in the middle of this corona time. I have worked few times per week in the office to meet the people who work there, and everyone has been great – I cannot wait to meet all the rest of the people face-to-face soon!".
The opportunity to get together with colleagues is just around the corner. True to its innovative spirit, Spinverse arranges an exceptional summer party to match with the exceptional circumstances: a majority of the Spinverse team will join an off-site summer event divided in small groups in two locations, with outdoor activities as the main focus. Those who preferred to stay at home, can join the fun virtually via Teams. Let's see how that goes!
In the main photo: Riina Häkkinen, Leena Vedenpää, Janne Kleemola, Johannes Ahvo, Arttu Toikka and Alex Kolster.