New colleagues at Spinverse bring new expertise
October 26, 2020
We are glad to introduce our newest experts to the growing family of Spinverse. Our new colleagues complement our already strong expert teams with their expertise on forestry, bioeconomy, advanced energy sources, forestry, EU policies, and health tech – all very hot sectors in today's industry landscape. Meet Jyrki, Anna, Sonja, Heli, and Jayden.
More and more Finnish and Nordic companies have become open to collaborative projects in this changing world and our experts have been busy supporting many of them to get started. At the same time, we have seen the need for new experts at Spinverse. As a result of an intensive recruitment period that we started in the summer, altogether five new colleagues have joined us during September-October. With our clients in mind, we are happy to introduce our new colleagues who will further strengthen the subject-matter expertise on the hottest industry sectors at the moment.
Jyrki Salmi (in main photo) joined Spinverse's Bioeconomy team as Senior Consultant, bringing with him a long and progressive career in consulting and management with an international twist — Jyrki's work has taken him to 80 countries, and he has many stories to tell from his travels to exotic and faraway places. With 30 years of working life under his belt, Jyrki has supported clients especially from the forest industry, but has also gained an extensive and global network in bioeconomy, circular economy, and natural resources management. Before Spinverse he has been, among other things, the managing director of Indufor Oy and focused on international growth. Jyrki is confident his broad and deep experience in bio-based business development and project financing will bring added value to Spinverse clients, from start-ups to listed ones, in supporting their growth and transformation strategies.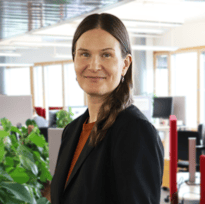 Anna Laitinen joined the Bioeconomy team as Consultant and has her background in environmental economics. With her working experience of about 10 years in the governmental sector and EU Commission, she will be able to support us and our clients with her extensive knowledge on EU policies related to climate and forests. Through her work, she has also become familiar with sustainability issues, governmental projects, public procurement and state aid.
Sonja Auvinen (middle, main photo) joined us as Consultant in the Energy & Manufacturing team. She comes from VTT where she worked over 10 years as researcher on hydrogen technologies, power-to-X, fuel cells and other renewable energy source related topics. With the rising awareness of hydrogen economy future importance in EU and member state level, Sonja wishes her expertise can help customers strengthen their competitivity with this emerging technology. She also looks forward to getting to know all the different innovative new technologies our customers develop!
Our most recent colleagues are Heli Teerenhovi (left, main photo) and Jayden Khakurel, who joined the Key Digital Technologies business unit. They will help to further strengthen our healthcare-related activities which currently see a surge in demand.
Heli Teerenhovi joins Spinverse as Senior Manager and comes from Roche, where she was leading a breast cancer team. Her strong management expertise in pharmaceutical and medical devices will help us power our healthcare business to the next level when combined with our already strong team. Heli loves complexity and always aims for new innovative solutions that are put together with close cooperation.
Jayden Khakurel, who has lived in Finland more than a decade, joins us as Consultant. He comes from Turku University Hospital, where he worked as a Senior Researcher, working with innovative digital health technologies with focus on children's mental health. Jayden holds a D.Sc. (Tech) in computer science from LUT University, MBA in international business management from XAMK. He has a strong background on user experience (UX) and technology adoption. Earlier, he was running a successful start-up specialised on Near Field Communication (NFC), contactless and other mobile technologies. "With my prior multidisciplinary knowledge and previous experiences, I am prepared and excited to work together with our customers to solve the challenges they possess and create innovative new solutions, enabling them to take pragmatic steps towards success," Jayden summarises.
Warm welcome to our new colleagues — we are all looking forward to working together and learning from each other!