LuxTurrim5G builds key enablers for a Digital Smart City
May 26, 2017
Single 5G network based on smart light poles opens new services and business.
An industry group driven by Nokia Bell Labs builds concrete enablers for a future smart city with an ambitious three-year joint project called LuxTurrim5G. The project will bring big data capacity available to companies and users through a network of smart light poles, which include antennas and base stations for the novel fast 5G networks.
The project includes technical development of the smart light poles with integrated 5G radio technology, different sensors and other devices as well as modern city planning and new digital services and business concepts related e.g. to security, navigation, smart lighting, weather monitoring, information sharing and advertisement.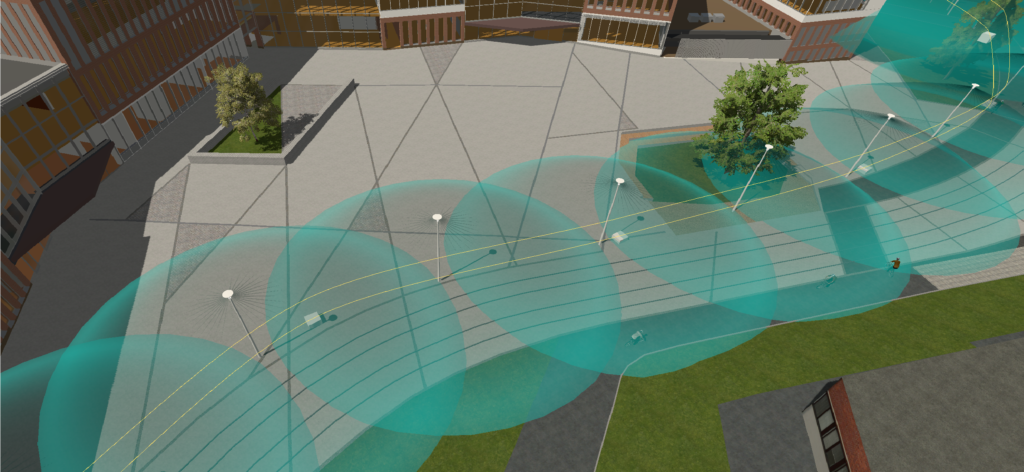 ©Sitowise. LuxTurrim5G will be the breakthrough enabler for a digital smart city ecosystem in street level deployments, building versatile technology and service platform utilizing a single flexible 5G network
"The goal of the project is to enable feasible digital service business opportunities for smart city environment, both on street level and in buildings. Big data capacity and a platform for novel services will improve the life and security of citizens enabling also autonomic traffic in near future", emphasizes Director of the project Juha Salmelin from Nokia Bell Labs.
"This ambitious multi-disciplinary joint R&D project gathers together ten innovative companies and three research institutes to develop and pilot the critical technical solutions regarding composite and antenna materials, smart light pole designs, miniaturized 5G base stations, integrated sensors as well as novel services and business models" says Coordinator of the project Markku Heino from Spinverse.
The partners include Nokia Bell Labs, Sitowise, Exel Composites, Premix, Lammin Windows and Doors, Vaisala, Teleste, Indagon, C2 Smart Light, VTT, Tampere University of Technology (TUT), Aalto University and Spinverse as the project coordinator. The project, set in first phase for three years, is funded by the companies and Tekes. LuxTurrim5G aims to proceed fast from R&D to piloting as the first parts of the novel 5G smart light pole based test network will be built in Nokia Campus Espoo already by the end of 2017. Espoo city is involved in the project supporting the implementation and learning the practical design aspects of smart city infrastructure.
Read the full article here.
Read the press release (in Finnish) here.
Read the article in Tekniikka & Talous (in Finnish) here (pdf version here).