LIFE programme provides billions of euros in funding for environment and climate objectives
June 7, 2021
The LIFE programme dating back to 1992 is the only European Union fund entirely dedicated to environmental and climate objectives. A recent provisional agreement to raise the budget of the programme to 5.45 B€ for 2021-2027 offers growth opportunities to basically anyone registered in the EU to apply for LIFE funding: public bodies, companies, and NGOs, including growth companies.
The new LIFE programme would have four sub-programmes:
Nature and biodiversity
Circular economy and quality of life
Climate change mitigation and adaptation
Clean energy transition.
The LIFE programme funds pilot projects and demonstration projects and also welcomes close-to-market projects. The maximum funding rate is 55 % of the total eligible project cost, and there is no fixed size for project budgets. The typical grants vary from 500 000 € - 5 M€ and most projects last 2-5 years.

The LIFE programme does not set any requirements on partners or countries, but a typical project consortium size is one to five partners from public bodies, companies and NGOs.
When to apply?
A call for project proposals will be published in the summer with the evaluations to extend to 2022. We are expecting to hear more about the deadline in late June after the European Research and Innovation Days 2021. When the information comes, it is advisable to start the project proposal preparations as soon as possible!
Are you working in an innovative small or mid-sized enterprise? Would you like our Spinverse experts specialised on growth companies to help your organisation to apply for funding for your project? Our funding experts can help you build your project strategy and provide support in finding the right partners for your next project. Contact us today!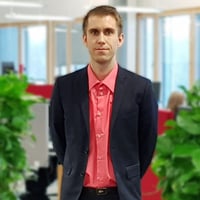 Janne Kaukojärvi
Consultant, M.Sc. (Eng.)

Tel. +46 70 844 9760 (SWE), +358 50 528 6197 (FIN)
janne.kaukojärvi@spinverse.com