Kiilto's SUPER Healthy Buildings Ecosystem: pioneering sustainability and wellbeing in the construction industry
June 27, 2023
Kiilto, a leader in the construction and building industry, has embarked on an inspiring mission to reshape the sector with their groundbreaking project, the Kiilto SUPER Healthy Buildings Ecosystem. Spearheading this ambitious endeavour is Raija Polvinen, Chief Ecosystem Officer at Kiilto, who is dedicated to addressing the pressing environmental challenges faced by the industry head-on. Spinverse supported Kiilto with their successful funding application for this co-innovation project, securing 3 M€ for this project.
With a history dating back to 1919, Kiilto has demonstrated their commitment to research, development, and innovation. Now, they aim to continue to be a successful and sustainable company in 2080. With a workforce of approximately 800 passionate Kiiltonians, including a remarkable 8.4% focused on research and development, Kiilto generated 260 M€ in sales last year.
Kiilto's unwavering dedication to sustainability is evident in one of their key environmental goals of achieving carbon neutrality in their operations by 2028. Their Kiilto SUPER Healthy Buildings project places special emphasis on construction materials and processes, enabling Kiilto to address environmental challenges at every stage.
Driving change through the SUPER Healthy Buildings Ecosystem
Kiilto's SUPER Healthy Buildings ecosystem will be launched on 14 September 2023. It is aimed at creating and commercializing innovations that collaboratively contribute to a better built environment through a SUPER approach. The project has received funding from Business Finland.
The SUPER Healthy Buildings Ecosystem serves as a powerful platform for driving change and transforming the construction industry. Recognizing that the magnitude of their mission cannot be achieved alone, Kiilto aims to collaborate with partners, fostering innovation and bringing new ideas to life. By forming strategic research partnerships and business collaborations, Kiilto accelerates the adoption of sustainable innovations, paving the way for long-term growth and progress.
The SUPER Healthy Buildings project is built on four foundational pillars:
Sustainable Building Materials: Kiilto is committed to replacing fossil-based materials with circular, renewable and plant-based alternatives, harnessing plant waste as a valuable resource.
Digital and Sustainable Building Processes: Leveraging the power of digital technologies, Kiilto optimizes building process efficiency while prioritizing sustainability every step of the way.
Healthy Living and Green Maintenance: Kiilto places the wellbeing of occupants at the centre of their design philosophy, creating human-centric buildings that prioritize indoor air quality, acoustics, and overall comfort.
Enabling Construction Circularity: Kiilto embraces circular economy principles, enabling material circulation and minimizing waste. They envision buildings as material banks, fostering traceability and trade of construction materials. By designing for disassembly, Kiilto ensures easy repairs and component replacement, revolutionizing construction practices.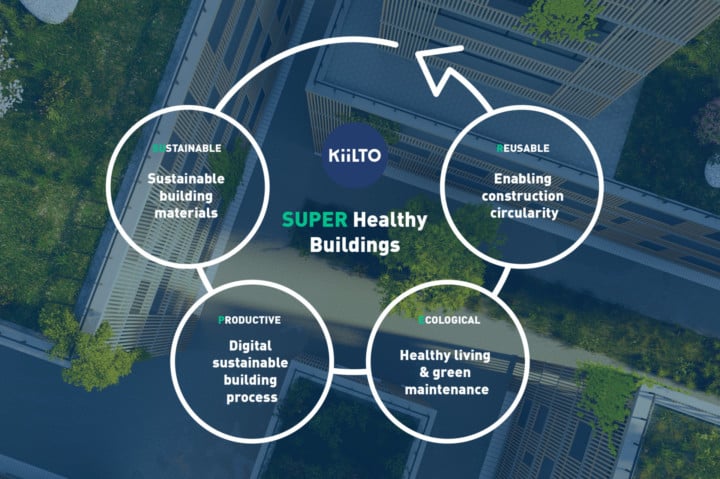 Spinverse: an indispensable partner on Kiilto's journey
Kiilto applied for public research, development and innovation (RDI) funding from Business Finland's Low Carbon Built Environment call, with Spinverse's expertise playing a pivotal role in their successful application process. Reflecting on the support from Spinverse funding experts in the application process, Raija Polvinen, Chief Ecosystem Officer at Kiilto, says: "Spinverse has been an indispensable partner in shaping our ideas and making them accessible to a wider audience. Their role in refining our thoughts and transforming them into a cohesive text for our application has been crucial. Through insightful discussions, Spinverse effectively captured and articulated the scientific aspects of our project. This support has been invaluable, providing us with the foundation we needed to communicate our vision clearly and convincingly."
By leveraging Spinverse's expertise, Kiilto saved a significant amount of time, allowing them to focus on other crucial aspects of the project. Spinverse's proposal team of RDI funding and ecosystem experts was led by Senior Project Manager Mirja Andersson from Spinverse. The team supported Kiilto's RDI experts in roadmap creation for SUPER open innovation mission.
Project facts in nutshell
Project timeline: 2023-2025 (SUPER Ecosystem Launching Phase)
Funding instrument: Business Finland. Low Carbon Built Environment: innovation funding call. The call is connected to the Sustainable Growth Programme for Finland, which is part of the EU's Recovery and Resilience Facility (RRF)
More information about the project
Join the ecosystem launch of Kiilto's SUPER Healthy Building on 14 September 2023
Join the exciting launch of Kiilto's SUPER Healthy Buildings Ecosystem on 14 September 2023, which will be coinciding with World Green Building Week. If you have any inquiries about SUPER or the event, feel free to reach out to Raija Polvinen, Chief Ecosystem Officer at Kiilto, via email: raija.polvinen@kiilto.com.