In a flow of renewal - new team leaders and new colleagues
May 20, 2021
Spinverse business continues to grow and renew to meet the customer needs and to offer top expertise on public funding, and existing or emerging technologies. As our experts accumulate more experience with Spinverse, we try to offer opportunities to take on new responsibilities. At the same time, we warmly welcome new experts to join our ranks. This spring, we have had several recruitment processes in our business units and are now proud to introduce our latest promotion and first new colleagues.
The new team leaders for the Health tech and ICT/Electronics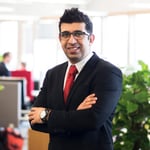 Dr. Rohit Sood (Ph.D.Chem.) joined Spinverse in 2017 as a Consultant. He is passionate about health technologies, wellness, and biotech ecosystem development. While working full time in a number of customer projects as a senior expert, he has not only completed his MBA in international business management, but has also contributed a book chapter titled ''Navigating and leveraging government entrepreneurial ecosystems for support'' for a book on ''How to Commercialize Chemical Technologies for a Sustainable Future'' (publisher John Wiley & Sons).
In his MBA thesis, Rohit found out five key driving factors that could play a significant role in the success of any innovation ecosystem. These success factors are i) new rules demand new skills, ii) trust and mobility, iii) winning by sharing not closing, iv) users and industry collaboration, and v) collaborative and co-creative culture.
Rohit's positive energy does not go unnoticed, and he was recently appointed to lead the Health technologies team. We asked Rohit where he found the time for all his extracurricular projects. Rohit laughs and says: "Being at Spinverse I have been fortunate to be able to work with different national and international ecosystem projects involving different industry representatives within the health tech and sustainability sectors. With such a vast exposure within such a short time frame, has made it easier for me to carry out my extracurricular projects." One of Rohit's first tasks as Team leader is to recruit new colleagues; we will keep you posted on his new team members soon.
Director Pir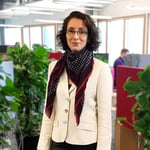 jo Pasanen (Ph.D.) has been with us for 10 years and is one of our seasoned colleagues with strong analytical and conceptual thinking. Her academic background is from theoretical physics, and she also has long experience from industry R&D. For instance, Pirjo is the go-to person when advice on the comings and goings of large consortium projects is needed. So far, Pirjo has helped customers to secure a total of more than 110 M€ in public funding.
When the opening for a new team leader in the ICT and Electronics team became imminent, Pirjo stood out among the other highly qualified candidates and was appointed for the role. It was not only because she has been leading a team at Spinverse before, but thanks to her extensive knowledge and her kind and professional way with people in and outside Spinverse.
New members to the Bioeconomy team
Bioeconomy, circular economy, and related industries are steadily growing with the European Commission driving sustainability in its strategy framework for a better Europe. As a result, the Bioeconomy team leader Kaisu Leppänen has been busy looking for new experts to support the customers seeking to grow their sustainable businesses through public funding.
Elisabeth Packalén (M.Sc. Econ.) joined Spinverse in April as a Consultant in the Bioeconomy team. She has a M.Sc. degree in Economics and strong background in EU affairs. Her time has gone quickly learning new things and getting to know people. For Elisabeth, the onboarding has been a bit easier than for the other newcomers because she has supported Spinverse as a freelancer. Therefore, she knew a little bit what to expect. Brussels is a familiar place to Elisabeth as she used to work at the Permanent Representation of Finland to the EU as an Advisor during the Finnish Presidency of the European Council, concentrating on industry and internal market policies. She also has experience in EU public affairs and lobbying from her time a trainee at Blic Oy. Before joining Spinverse, Elisabeth worked as a Technology consultant at Ernst & Young. Elisabeth says: "Joining Spinverse is an excellent opportunity to see how different the EU policies actually impact companies and help companies to build new innovative projects to utilize EU support."
Minna Lahtinen (M.Sc. Chem.) is our newest expert and joined us in May as a Consultant, also in the Bioeconomy team. She is an experienced senior chemist skilled in R&D, waterborne coatings, biopolymers, nutrient recovery, biogas processes, process development and patents so she brings with her a host of subject matter expertise. Minna holds an M.Sc. degree in organic chemistry and has been working with several start-ups, including Ductor and most recently Build Care Ltd. where she was developing flexible, innovative coatings for the construction industry.
Congratulations to Rohit and Pirjo for their new roles and warm welcome to Elisabeth and Minna!