Circular Bio-based Europe Joint Undertaking makes an impact on circular bioeconomy in Europe
May 30, 2022
The Circular Bio-based Europe Joint Undertaking (CBE JU), the follower of the Bio-based Industries (BBI JU) partnership, is set to fund excellent collaborative projects and the first call for project proposals will open before the summer break 2022. The preliminary call topics indicate a wide range of growth opportunities for companies working in this sector. The search for strong partners to collaborate in consortium projects is already underway. Is your company considering joining this initiative?
The current programme draft of the CBE JU 2022 call includes:
four demo calls
two flagship calls
five research topics and
one support action.
In practice, the funding will enable a launch of several large-scale projects and growth opportunities for tens of large enterprises, SMEs or RTOs who can together make a difference on how we mobilise and process biobased feedstock into products for a more sustainable future.
The topics to be funded are likely to have a strong focus on carbon capture and use for circular bio-based products, bio-based alternatives to chemical building blocks, new sources for proteins and other food ingredients, bio-based coatings and binders, biorefinery concepts, and much more, all aiming to make a remarkable impact to increase the circular bioeconomy in Europe.
The CBE JU is organising an online info day on 7th of June to those considering to apply for the CBE JU 2022 call for project proposals. This is an excellent opportunity to learn about the call topics, pitch your project idea and look for partners to collaborate with. Full call topic texts will become available before the info day.
However, if you need support in clarifying your project ideas and putting together a successful funding application with the right partners, our funding experts are ready to help you - we are happy to walk you through the funding application jungle: We will help you identify the suitable funding topics and partners to collaborate with, and help you crystallise your project objectives and impact on growing the bioeconomy in Europe.
Contact us for a free 30-minute consultation to learn more about services and how we can help you join the collaborative actions for a stronger circular bioeconomy industry in Europe!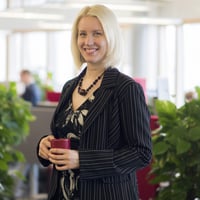 Kaisu Leppänen
Director and Team Leader for Bioeconomy, MSc. (Chem.)

+358 44 288 4824
kaisu.leppanen@spinverse.com