Key insights into building and leading open innovation ecosystems
September 9, 2019
How to co-create and collaborate in complex and continuously changing environments? What are the cornerstones on which successful innovation ecosystems are built on? How can design thinking help to facilitate effective cooperation in an open innovation ecosystem?
We at Spinverse have been working on open innovation with the most innovative companies and organisations throughout our 15-year history. A few years ago, Spinverse started a research project on leadership of open innovation ecosystems. After diving deep into the subject by going through numerous studies, attending seminars and conferences as well as interviewing experts and stakeholders, we are now happy to share our key learnings with you in a series of whitepapers on the topic.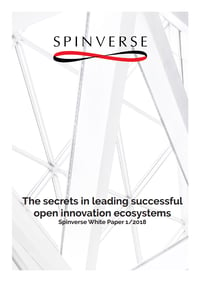 The secrets in leading successful innovation ecosystems

What makes other innovation ecosystems successful while others fail? Leading an innovation ecosystem is more demanding than that of business and knowledge ecosystems. We wanted to explore the leadership of innovation ecosystems to find out how they are led effectively. In this whitepaper, we share the six key elements to pay attention to when building and running innovation ecosystems.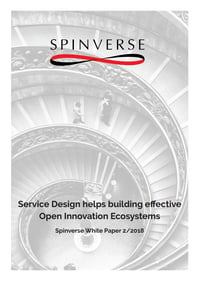 Service design helps building effective open innovation ecosystems
How to apply design thinking to ensure continuous learning and effective collaboration in open innovation ecosystems? In this whitepaper, we explore the process for creating an open innovation ecosystem further and conclude that it links closely to service design methodology. This whitepaper draws from our experience in different open innovation projects, and answers to the questions on how to effectively design, implement and lead open innovation ecosystems.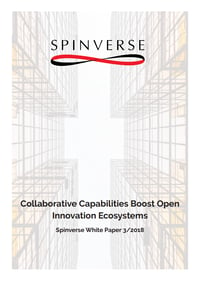 Collaborative capabilities boost open innovation ecosystems

Open innovation ecosystem projects are complicated and demanding. Ecosystem partners have multiple roles and different internal drivers and objectives. Typically, innovation projects involve high technological and commercial risks, which increase the level of complexity. Furthermore, there may be competing ecosystem projects either running parallel or about to be initiated. This paper presents specific measures and actions required for successfully leading and managing open innovation projects in practice.


Download the knowledge package of three whitepapers below – and while you're at it, learn more about our services for building and leading open innovation ecosystems.