Innpaper offers piloting opportunities for applications of paper-based electronics
March 16, 2021
Innpaper project is developing sustainable and innovative alternatives to electronic waste with three use cases for real industry needs in food, security, and medical sectors. The four-year joint research project has now progressed to its final year. In line with the project's target, the 15 consortium partners have now developed an electronics platform using paper as a base material to offer a recyclable replacement to e-waste. Innpaper recently completed the evaluation for the open call for new ideas and have now shortlisted Amphilab and Tapp Online as final candidates. Spinverse experts are working with the consortium to boost the development towards commercial applications.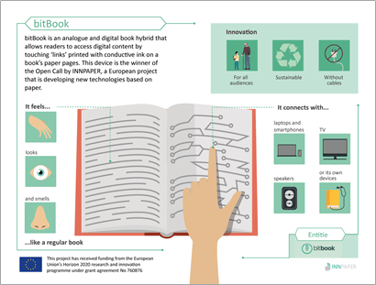 In the Innpaper project, paper-based material used as an electronic platform integrates basic electronic items such as batteries, NFC systems and displays into a more sustainable alternative to the ever-increasing and environmentally problematic e-waste. The project has studied paper as a versatile material, not just as a substrate but also as an active part of the electronics. Furthermore, the use of cellulosic material as part of inks and electrolytes is on the agenda. The project will demonstrate the versatility of the technology with three well-defined use cases suitable for food, security, and medical sectors.
The use cases under development are related to cold-chain monitoring smart-labels, bedside diagnostic tests for influenza and streptococcus bacteria and detectors for caffeine and other drug derivatives, such as THC. Printable battery by Varta Microbatteries and printable display by Ynvisible are other examples of interesting applications for the electronic paper technologies at the center of the R&D&I work. After successful commercialization of technology developed in Innpaper project, these use cases are expected to bring significant value to several industries.
Moving ahead with the innovative ideas from the INNPAPER open call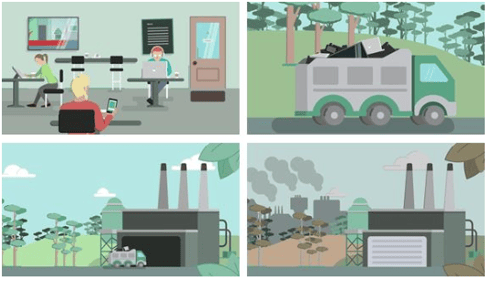 The Innpaper project has now reached the phase where it is gradually getting ready to move from research to go-to-market planning. Depending on the use cases, they are getting ready for commercialisation within 3-5 years from now. To accelerate commercial applications and get new business ideas from external partners, Innpaper launched an open call in April 2020. With the call, the consortium was looking for new ideas within printed electronics that would benefit from using an integrated electronic platform using printed batteries, sensors and displays.
Innpaper open call closed last autumn and received a lot of interest. Amphilab and Tapp online has been shortlisted as final candidates. Amphilab has developed an interactive bitBook, which enables printed or audio books to have interactive links and other exciting features, changing the way we read and interact with traditional print media in the age of IoT. Tapp Online help brand owners and organisations to track paper, retail, and device touchpoints to generate new sets of connected data. Tapp online is connecting the unconnected by bridging the gap between the real and the digital world: we create smart paper enriched with NFC technology.
Winner of the open call will be announced in April 2021.
Taking steps towards commercial usage with support from Spinverse
Spinverse experts Markku Heino, Rohit Sood and Emilia Paltta have been involved in the Innpaper project through exploitation and dissemination activities. Spinverse as a key project partner is in charge of developing a comprehensive business plan for the technology being developed in the project. It will lay the foundation towards commercial applications. Over the past months, Rohit and Emilia have been working on creating a market study and facilitating project's exploitation, bringing valuable support to the consortium.
Ana Viñuales, consortium leader from Cidetec says: "Support from Spinverse has been instrumental in the various phases of the project especially for the exploitation of the project results. Comprehensive business plan for the Common platform and its applications is being developed by Spinverse in collaboration with consortium partners. It will form the basis for the commercialisation of the technologies being developed in the Innpaper project."
Rohit sums up: "To boost recycling of e-waste, papertronics (paper-based electronics) represent a huge opportunity to create low-cost electronics which is flexible, sustainable, and environmentally friendly. Innpaper project is a great step towards that direction. In the future, there will be applications that go beyond using paper as a carrier or substrate for electronic components."