Innovation Fund small-scale 2023 call has opened: Scale up your technology for more GHG emission savings
April 19, 2023
Since 2021, CINEA (European Climate, Infrastructure and Environment Executive Agency) is organizing Innovation Fund instruments, annual EUR multi-billion calls to decrease industrial carbon footprint and improve European capacity in key resource areas. This year, the small-scale Innovation Fund call is expected to finance around 100 M€ grants for disruptive technologies capable of significant greenhouse gas (GHG) savings compared to the current scenario. Is your technology ready to take off from pilot to full industrial scale?
What is EU small-scale Innovation Fund?
The EU Innovation Fund is one of the world's largest funding programmes for the demonstration of innovative low-carbon technologies and will contribute to greenhouse gas reduction. Over the past 2 years, EU Innovation Fund programme has provided more than 3 B€ worth of grants (based on revenue from European ETS system) to 53 industrial projects across Europe in energy-intensive industries, renewable energy production and energy storage.
The third call for small-scale projects has been launched on 30 March 2023, with a budget of 100 M€. The submission deadline for proposals is September 19, 2023. The 2023 EU small-scale Innovation Fund is dedicated for innovative industrial projects with the technical, financial, and operational maturity to scale up to an industrial level and achieve significant greenhouse gas reductions.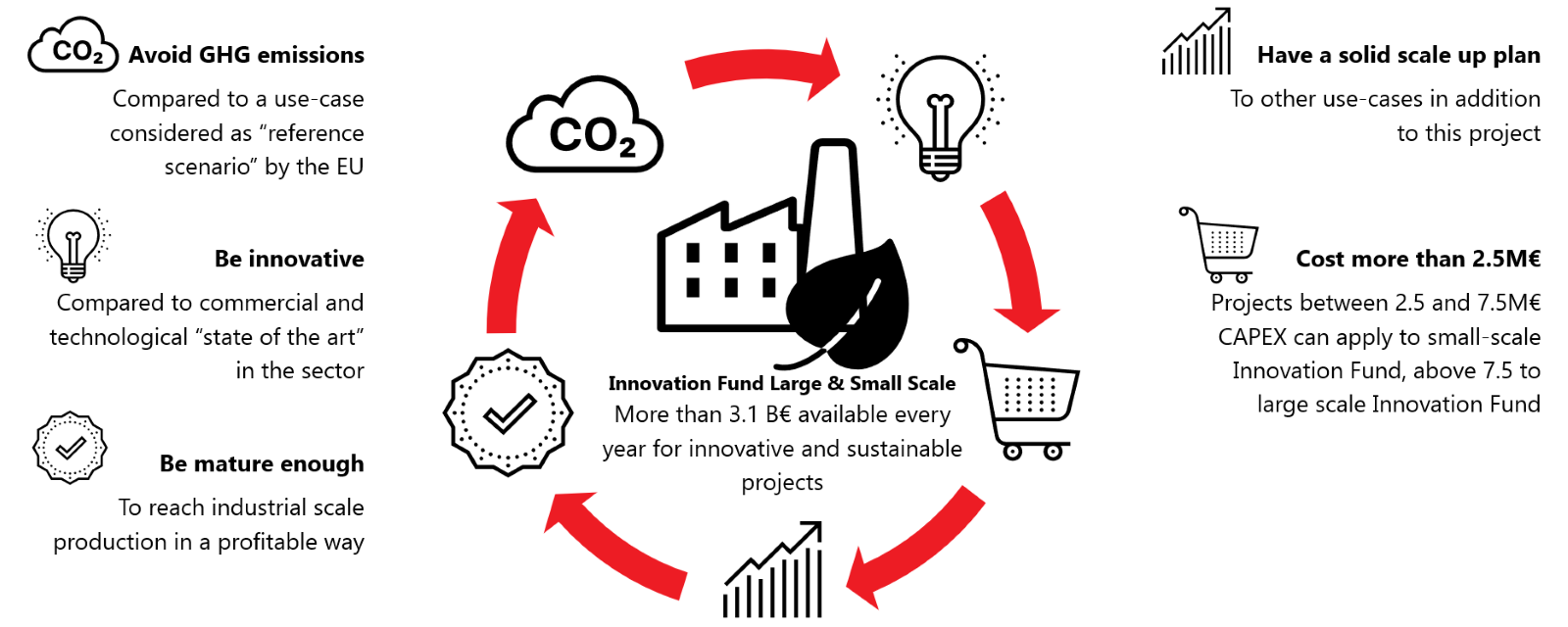 Is my project eligible for EU small-scale Innovation Fund?
Innovative and green industrial projects located within the EU Member States, Norway or Iceland, with a total capital expenditure between 2.5 and 7.5 M€ can apply to the call. The EU monitoring period for the project covers design, construction, installation, and the firsts 3 years of the plant's operation. To increase chances for grant awarding, proposals will have to provide a detailed financial model, GHG emission avoidance calculation in addition to the project proposal document. With only 17 projects selected over 66 applications last year, CINEA has emphasised the importance of the project's maturity and commitment from all project's key stakeholders in the evaluation process.
Where can I find more information and support for planning my project?
The Innovation Fund covers a range of different topics, and the requirements for each call can be complex. In a highly competitive environment, seeking support from funding experts can make all the difference. Spinverse's Sustainable Industry teams have extensive experience in Innovation Fund preparation and can shape your project toward an awardable proposal.
Do not hesitate to contact the team if you have any questions or need support in increasing your chances of submitting a successful funding application!
In addition, CINEA is also organising the third call for small-scale projects' Info-day on the 20th of April 2023. This will give you a good insight into the requirements and opportunities Innovation Fund can bring to your project.
Got interested? Do not hesitate to contact us!

Further information:
Innovation Fund programme webpage