Get your project ready for the new EIC Accelerator
March 31, 2021
The revamped European Innovation Council (EIC) Accelerator is the flagship funding instrument under Horizon Europe for start-ups and SMEs with radically new ideas for rolling out marketable innovation solutions and breakthrough projects. Winning companies with ambitions to grow and scale up can receive up to 15 M€ in equity investments and 2.5 M€ in grants. Here are our tips to get ready for your application process in the application portal!
The funding application is submitted through an EIC artificial intelligence-based IT platform. It is now open in beta version for you to become acquainted with it. The tool will allow the submission of short applications on the 8th of April 2021, so you have some time to find out how it works and prepare for your application. If you want your application to be included in the 9th June 2021 cutoff, we recommend you submit your application by 15th of April, 2021 the latest.
Overview of the application process in the portal
Here are the modules of the AI tool: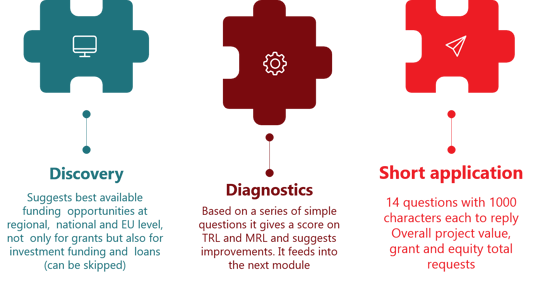 The Discovery module is optional, but it will give you proposals for the best available funding opportunities, including grants, investment funding and loans.
In the Diagnostics module, also called Step 0, you will need to provide answers to various questions along the lines of "What, why, how, who, for whom and what impact". The AI-based IT platform will provide you with a comprehensive diagnostic result on technical and market readiness of your concept or idea and an assessment of the team members in relation to their tasks. You will still be able to edit it if needed.
Steps of Short application in a nutshell
You may submit a Short application at any time, as it is a continuous, rolling process. First, you need to provide the basic information related to your proposal such as proposal acronym, title, abstract and keywords. Next, you must provide your company and CEO (or equivalent) information, and validate your PIC number (in section registration).
In Step 1, which is the actual Short application step, you are asked to fill in answers to several questions using a total of about 14,000 characters (incl. spaces). Some questions will appear prefilled as the questions were already asked in the Diagnostics (Step 0) step to assess your innovation. You can still modify your answers if you so choose. The amount of 14,000 characters equals to about five pages of written text. No images or graphics are allowed.
You will be asked to estimate the value of your project, the grant and the equity you require, but at this stage, these numbers are only needed for statistical reasons and hence not binding. You are not asked to present an implementation plan at this stage.
Essential elements in your proposal are a pitch deck and a motivation video. Pitch deck is a set of 10 PPT slides following a free format – no template from the European Commission is given. This is the place to tell your story with key messages and visuals such as infographics, tables and charts to clarify complex value chains, for example. Be concise and to-the-point!
The video can be up to 3 minutes and this is where you are expected to provide the motivation for the application with a particular focus on your team. You can have a maximum of three core team members presenting. We do not recommend wasting time and money for fancy videos – keep it clear, simple and informative.
Once your application is complete, you can submit. If you realise you made a mistake after submitting your proposal, it is best to withdraw your proposal immediately. You may then clone your proposal, make the necessary changes and submit it again.
If you get a GO for your Short application, you will then proceed to Step 2, Full application, and eventually, to interviews. The Full application, or Design module, as it is labelled in the portal, is most likely to open around mid-April as beta version for the applicants to test. The submission for the Full proposal phase will be available to those companies that will receive a GO to their Short application.
Key learnings from the new application process
The choice for Open or Challenge will be requested only during Step 2 (Full application)

The space for the text is really limited: you need to make big bold claims with no room for subtlety

Go for big impact on climate, employment and health

Use the pitch deck to convey the graphics and figures you cannot deliver in the text sections

In perspective, the deck is even more important than before; evaluators often check them first

Your team is crucial.
How can Spinverse help?
If the whole application process seems daunting and you feel you could use some extra help to navigate through the process, Spinverse funding experts are here for you!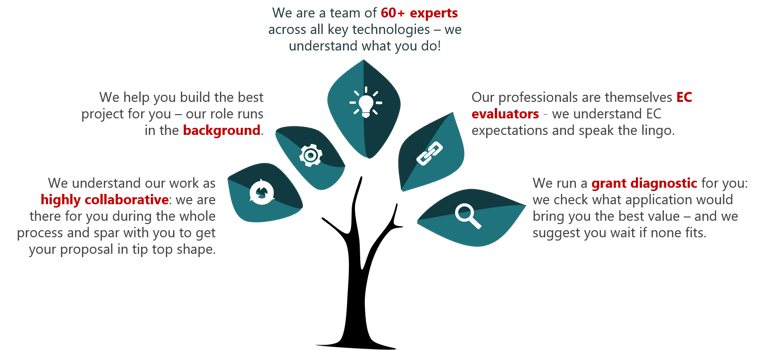 Contact us to find out more:
More information:
https://news.spinverse.com/eic-accelerator-brings-growth-opportunities-to-disruptive-smes