European Defence Fund supports collaborative defence development projects with 5.3 B€
August 23, 2021
European Defence Fund (EDF) is the European Commission's initiative to support collaborative defence research and development, and to foster an innovative and competitive defence industrial base. The extensive fund offers remarkable growth and collaboration opportunities to defence industries throughout Europe.
A budget of close to 8 B€ for 2021-2027 is dedicated to the European Defence Fund. 2.7 B€ is used to fund collaborative defence research, whilst 5.3 B€ is used to fund collaborative capability development projects. The research projects consist primarily of applied research activities, and those projects have 100% funding rate. The development projects consist of defence-oriented activities primarily in the development phase, covering new defence products or technologies or the upgrading of existing ones. The funding rate varies from 20% to 100%, but the funding is expected to be complemented by national co-financing.
Anu Ilmonen, who leads Spinverse's Defence and Security team, says: "The call will be opened on 9 September, but the call documentation is already available. Although most of the consortiums have started the proposal preparation, the short time to the deadline and the amount of documentation that needs to be submitted might surprise the coordinators and consortiums. The competition is getting harder and only well-prepared proposals will be funded. We at Spinverse can help to ensure that the project ideas are presented in the best possible way to meet the evaluation criteria and the admissibility conditions."
Particularly in development actions, the support from the Ministries of Defence (MoD) is essential, and most of the Member States have set up email addresses to contact MoDs with respect to European Defence Fund project ideas. The preparation process of development project proposal is as follows:

The call texts for 2021 have been published

The EDF is implemented through annual work programmes structured along 17 thematic and horizontal categories of actions, which have been shaped to remain stable during the Multiannual Financial Framework 2021-2027. This year's calls are as follows:

Development action calls
Research action calls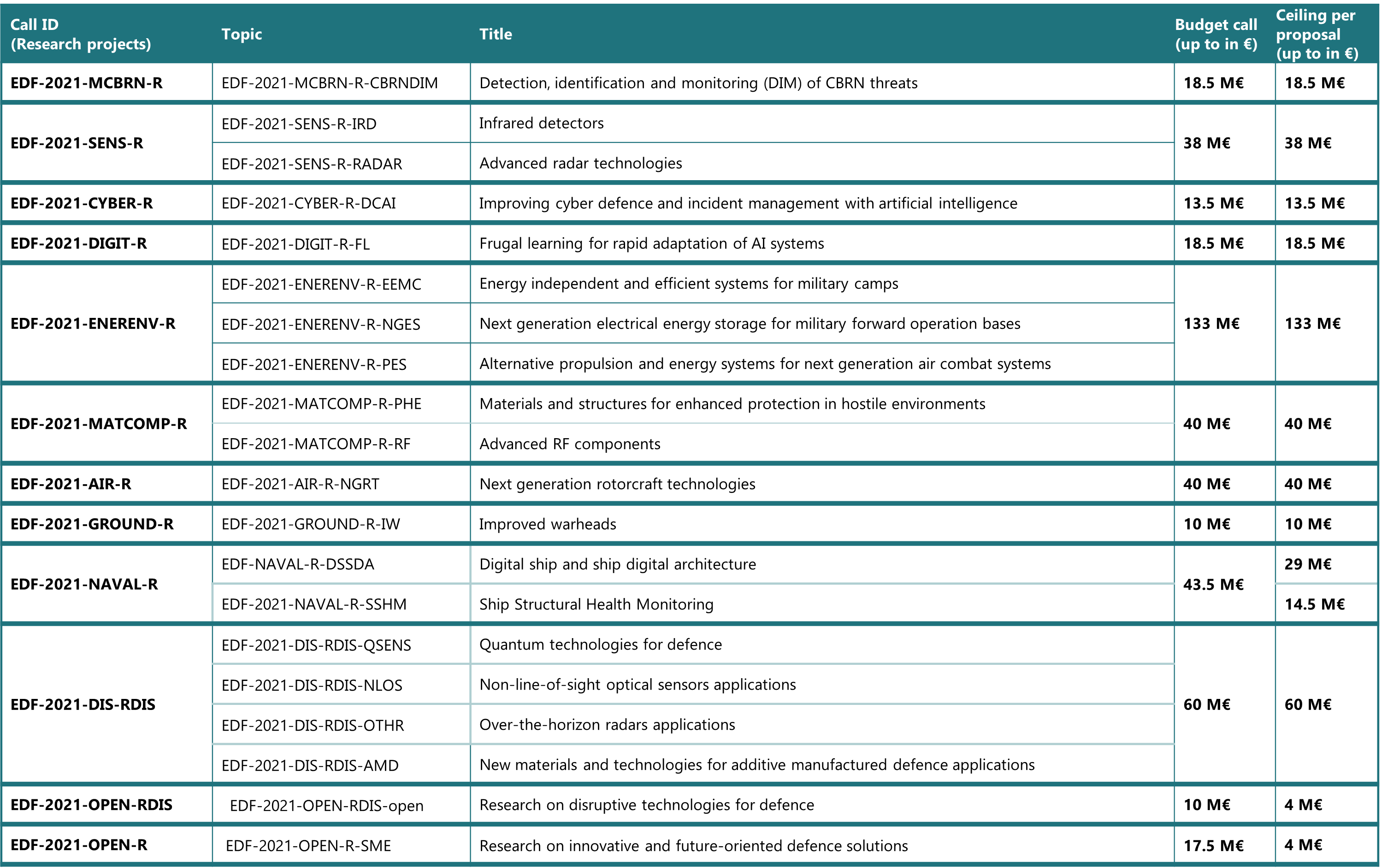 Are you interested in learning more about the opportunities of public funding for your company's defence technology projects or how you could increase your chances in succeeding in your bid preparation? Our funding experts are happy to help you!
Read about our most recent success story on the defence sector:

Spinverse is part of successful EDIDP consortium focusing on developing next generation defence capabilities
More information:
Find the detailed call descriptions

here

.

The deadline for proposal submission is 9 December 2021

The European Commission will organise an information day on 15 September 2021 followed by networking sessions on 16-17 September 2021.