Building blocks of Spinverse company culture
August 16, 2022
As a rapidly growing company, Spinverse is investing heavily in its culture. We explored the importance of company culture in relation to our growth journey with Dijana Soininen, our Head of People and Culture.
Company culture makes a significant impact to company's success
Dijana starts by explaining how company culture is a complex concept with many definitions. Yet, there is not one single correct definition. Company culture consists of the collective behaviour of people and their mutual interaction. It is like a glue that brings people, actions, and business together.
Company culture directly influences employee motivation, engagement, and — ultimately — the impact people are making through their work. Understanding the why and how behind this influence gives company the insight for fostering the right culture for its business.
When thinking how to evolve company culture, it is important to understand how it will boost company's success, and what it takes to develop a successful future. As we are approaching the mark of 100 employees at Spinverse, we are putting a strong focus on leading our company culture towards set objectives. Our culture objective is to create an environment where people can solve global challenges and cultivate professional growth.
Innovation has transformed radically over the last couple of decades and organisations are solving bigger challenges: climate neutrality and sustainability have become key focus areas for everyone, to name a few. Our customers are pursuing innovative ways to create value, new business models, technologies, and ways of working. Our key objective is to help our customers engage in collaboration, secure funding and support them in building and leading their innovation projects. To create that value, the role of our people and culture is of utmost importance.
Building blocks of our company culture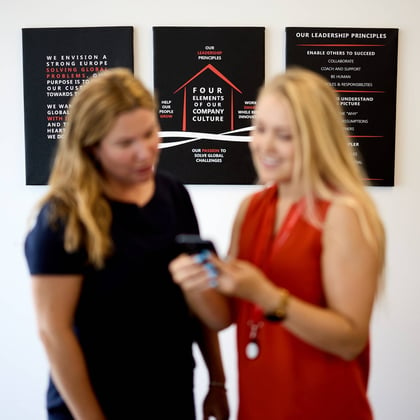 Our culture is built on two strong elements: mission-based mindset and diversity & inclusion. Solving global challenges is a strong part of our DNA. This is something that attracts people to join us as well as keeps people motivated, as we can truly say we are able to make an impact through our work with projects on sustainability, bioeconomy, energy, health tech, ICT, mobility and smart cities, for instance.
We are lucky to have an extremely diverse and talented group of people working with each other and our customers. Dijana points out that our diversity is not only of the obvious nature (demographics, age, nationality etc.), but Spinverse people collectively possess an extensive cognitive diversity, they come with different educational and cultural backgrounds, ideas, perspectives, problem-solving methods, working and learning styles. The impact is created when people come together and embrace the differences. Inclusion is the beauty of our culture. It is how our culture makes diversity work for our benefit and for that of our customers. Surely, leading diversity and working in it can be challenging. It demands an open mind from everyone but that is where the strength of the Spinverse culture lies.
How does the company culture manifest itself at Spinverse?
We have established several practices for daily, weekly and monthly basis to help us engage with culture. These practices give space for dialogue, reflecting and learning. As an example, for the past six months we have facilitated a Culture Award, where we award and highlight colleagues and teams demonstrating desired culture behaviours, such as helping others grow, working smart and embodying leadership principles in work. The focus is on the actual mindset, specific behaviours and their impact. We wanted to help people recognise these business-relevant habits, engage collectively in reflection, learn, and find ways to anchor them more broadly into our culture. Culture is something everybody can contribute to, equally.
Another example is related to leadership principles. We have created a practice of reflecting through feedback how well we incorporate our leadership principles in our daily work and what impact they help us make.
The third example is putting our hands around culture analytics. We are looking at different insights and data points to see how we are progressing on this journey, follow the trends and what is needed for the future. Dijana concludes: "Company culture is never ready. You need to make an effort to embrace and nurture its strengths and have courage to see and accept things that need to be changed. At the end of the day, everything boils down to one question: is your company culture enabling your people and your business to succeed?"
Do you have the passion to make an impact with your work and would like to join the Spinverse team? Follow our Careers page for open positions.